When I met Yash Chopra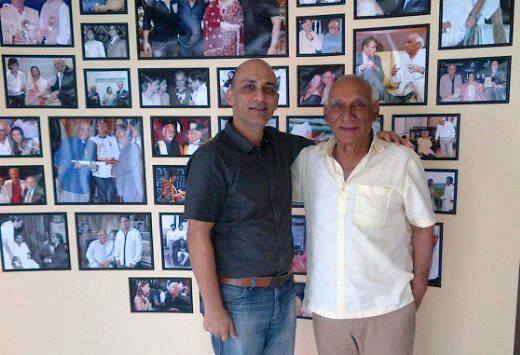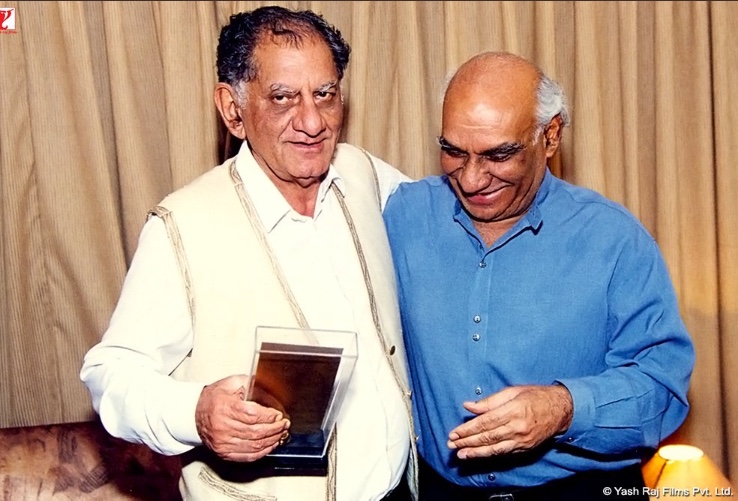 By Rakesh Anand Bakshi
Yash Raj Films released a book on Dilwale Dhulania Le Jayenge running for 20 years. Great! So, I decided to share what Bakshi ji told the director Aditya Chopra after he heard the script:
"Adi, if you make even 50 percent of what you just narrated to me, this film will be a big hit!"
Many months later, after Bakshi ji saw the preview of the film, before its release, he told Adi:
"Adi…. You have done 100 percent justice to what you had narrated to me. This film is going to be a blockbuster and it will not come off theatres for a very long time!"
But for how long it will run, I guess even Bakshi ji could not have guessed that! Because only the viewing public can be the ultimate and truest barometer of your work.
When I met Yash Chopra ji on 14 july 2012, a few months before he passed away, this was what transpired between us:
I asked Yash ji: 'When and how did you meet my father, Anand Bakshi, and when did you decide to work with him, hire him as your lyrics writer?'
Yashi ji replied, "I would meet your father, Bakshi ji, often at film functions and film parties, and he was a very successful lyrics writer already by then. He also loved to sing and sang well.
One day I was re-introduced to him by my lyric's writer Sahir. Sahir was not only my lyrics writer but he was also my dear friend, and Sahir told me '…use Anand Bakshi for lyrics someday in your film, he also writes well.'
I was surprised, that my own lyrics writer Sahir saab was recommending another lyrics writer, Anand Bakshi, to me for my film, even though Sahir was my old and my current writer working in all my films.
I was very happy with Sahir saab writing lyrics in my films and I had not asked him to recommend me another lyrics writer. Yet he did! And he recommended Anand Bakshi.
The best thing about Bakshi ji was, even though we both were established professionals by the time we met sometime in 1980's with Sahir saab, and even before that I had met him on and off at parties, Bakshi ji never ever asked me for an opportunity to write songs in my films. I think Bakshi ji knew that Sahir saab was my favorite lyrics writer and my dear friend too, and Bakshi ji honoured and respected that relationship we shared.
I can say Bakshi ji was amongst the good human beings I have met, and the number one lyrics writer; of course, there were many good poets and lyrics writers, but there will be only one lyrics writer cum poet like Anand Bakshi.
one day, a big producer wanted me to direct a film for him, and the music was by R D Burman. the producer was gulshan rai. he suggested to me, or was it R D Burman who suggested to me, that we should sign Anand Bakshi saab for the lyrics in my film. I happily agreed to their suggestion.
consequently, I met bakshi saab for my film and he gladly agreed to work in my film as lyrics writer without asking me any questions about why Sahir is not writing my film.
however, when I returned home, I felt guilty and very bad that Sahir saab was also a very good song writer, and he was also my very good friend since many years, therefore, I must continue to work with Sahir saab, even though Sahir saab himself had once told me to work with Bakshi ji also.
however, I decided I have to go back to bakshi saab and tell him I am sorry that I cannot work with him. bakshi saab was a very successful and famous writer even then, in fact ever since 1964-1970 onward he was very much in demand.
Embarrassed, I approached Bakshi ji hesitatingly and apologized profusely for going back on my word to him. I honestly told Bakshi ji I want to remain loyal to my very dear friend and very talented writer Sahir saab, so I cannot use his (Bakshi ji's) talent in my film, even though it is I who approached him, and asked him Bakshi ji if that is okay with him.
surprisingly, Bakshi ji was extremely graceful, and moreover, he was very happy that I wanted to continue working with Sahir saab even though he and I had a deal from the day before. I think the reason was, Sahir saab had given bakshji good advice on song writing and also some good introductions to producers and directors when Bakshi ji was desperately looking for a foothold in the profession many years ago from 1956 to 1964. Bakshi ji never forgot Sahir saab's help, I think.
furthermore, Bakshi ji told me even if we do not work together in this film, or any other, we must remain friends. thus, I will say here, I never met a man like Anand Bakshi. he never played politics, he never spoke bad about any other rival writers or people he did not work with or who did not want to work with him. he was always quite, and did his job quietly, and then he would leave once his work is dome. even when we became friends over the many films we did together, he made no unnecessary chatter or gossip ever.
it was only when God took Sahir saab away from us, that I approached anand Bakshi ji for my film. Chandni was my first film with him. And what songs, what lyrics he gifted my film and my other films with him! Unforgettable contribution!
He wrote for so many films of mine, and even some by other directors making films for yash raj, and he also wrote for my son aditya's first and his second film as director.
We worked together in:
Chandni (1989)
Lamhe (1991)
Parampara (1992)
Darr (1993)
Dilwale Dulhania Le Jayenge (1995)
Dil To Pagal Hai (1997)
Mohabbatein (2000)
Mujhse Dosti Karoge! (2002)
When my son aditya narrated his script of 'dilwale dhulania le jayenge', to Bakshi ji, bakshi saab told my him, 'beta, if you make even 50 percent of the script you have narrated to me, this film will be a huge hit, an unstoppable success!" That film is still running in Bombay, since 1995. Teenagers even today sing those songs.
Bakshi ji would write songs within minutes for me. sometimes he wrote one traveling in his car from his house in bandra to my house in juhu, in 15 mins.
sometimes he wrote verses for me in less than 4 minutes while I would hold on the telephone. when I would be stuck during a recording of a song and I felt a verse or word needs to me changed while we are recording the song with the singers, I would call him and he never said no or never told me call me tomorrow. there and then he wrote and changed words or lines for me!
such was Bakshi ji's speed, depth, dedication and enthusiasm. he never questioned or fussed with me why I want anything changed even after I had liked and accepted his lyrics. he never said that it is not possible to make changes if I needed them over the phone while we are recording. he always delivered on every occasion that arose, any time, any day.
once when he was admitted at nanavati hospital for getting a heart pace maker put, I went to meet him there. he told me he had thought of some new verses for a song in Chandni which he had already delivered to me. I had never asked him to improve on what he had already written. so that proved he was thinking of his directors, producers even while he was being treated for his heart in a hospital!
where are such people, such dedication, such talent, such sincerity, such enthusiasm, today?!
Bakshi, Bakshi ji, bakshi saab, Anand Bakshi, remains unforgettable even today to me, and even my son adiyta. beta, we miss your father immensely."