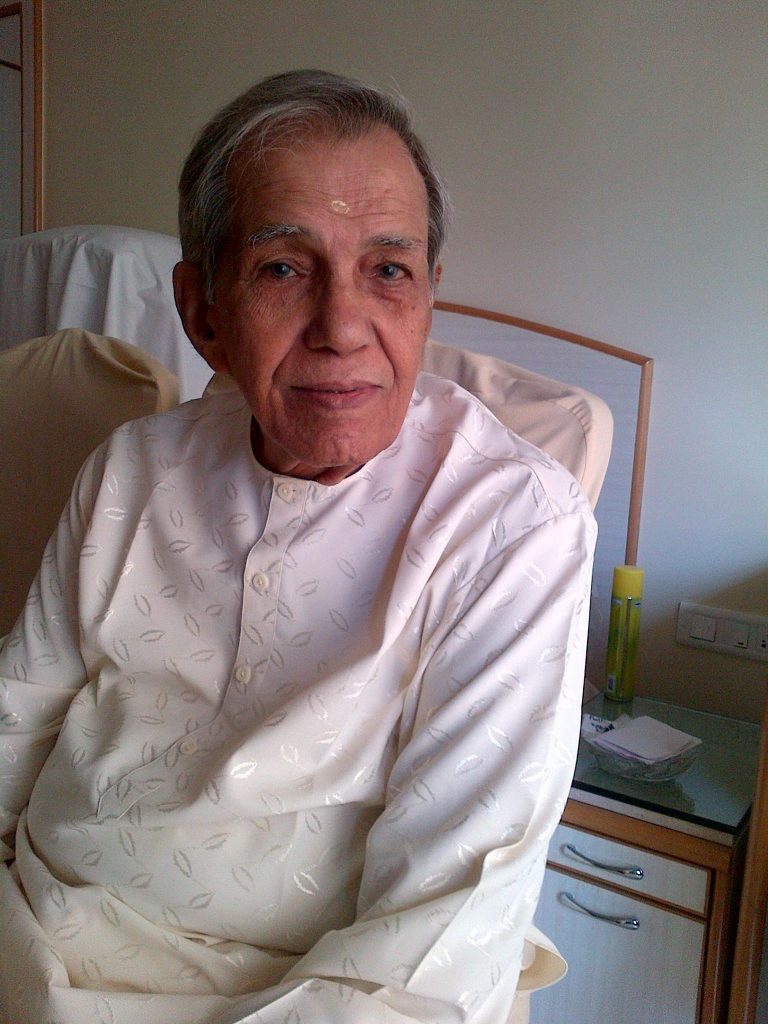 (Tina Films International) worked with AB in: Ghar Ek Mandir, Swarg Se Sundar, Sindoor, Charnon Ki Saugandh, Gharana.
My relationship with Bakshi saab goes days back when I was working in Gemini Studios and we used to meet very often at music composers Kalyanji Anandji's place. And my friendship started with Jab Jab Phool Khile 1965. We used to frequently meet and then we started working in many films for the producers from south I worked for.
Bakshi saab is such a human being that you cannot find anyone like him today. He was very affectionate. He was interested in other people's welfare, and his producers and directors and family and friend's welfare – That was his life motto. He was always smiling and happy.
I started my career as Producer with Ghar Ek Mandir (1984) Bakshi saab agreed to write lyrics for me, and then Bakshi saab worked in all my pictures, and also some films of my son as director years later. So he has stood by my family through the years.
I admire him like anything. His great qualities and his way of working that within minutes he would give us lyrics. He was very prompt and systematic and no one can imagine nowadays how he worked.
In south there is a very famous lyricist Karnadasan, whenever I go to Madras Mr. Karnadasan talks of Mr. Anand Bakshi saab. Mr Anand Bakshi used to always admire Mr. Karnadasan's lyrics too.
Bakshi saab used to always say be open minded. He says always family first, please concentrate on family and give them happiness in life.
I was working for producers in this industry and south from 1948 to 1962 in Gemini studios, and 1962-79 with Venus pictures, and whenever he used to see me he always encouraged me saying 'Krishnamurthy please start your own picture, become a producer yourself, I am there to help you start your own film. You are good man and hard working.' I can say with Mr Bakshi's inspiration and enthusiasm and help I started my first picture Ghar Ek Mandir 1984, which was my first movie and I was established as independent producer in this business. God Bless him and his family.
My sons first picture as director, was Sindoor – 1987. The lyrics he wrote for his film, 'Pathjhad saawan basant bahaar, ek baras mein mausam char, panchwa mausam pyaar ka…' was a super hit and memorable song and it was written by Bakshi saab within 15 minutes. Fifteen minutes!
K Ravi Shankar, my son, directed this film and was established. In a way he helped my son get established too. Suresh Wadkar sung the song, female voice was of Lata Mangeshkar.
Bakshi saab used to always work with a smile. Service before Self was always his way of working and with a smile. The funny thing was whenever I would give him a song situation he would always worry and say it is difficult to write and it will take time to write this song, but, he will go home and same day or next day or two days he will himself call me and tell me 'come, your song is ready.' He was a workaholic and genius. He never delayed my songs.
Let me tell you about the film Hathi Mere Saathi. My friend and great producer from south Santo Devar who has made 14 movies with MGR the super hero of south. He came t Bombay and he wanted to make this movie Haathi Mere Saathi. First mr Devar approached Sanjeev Kumar. Then I suggested him to cast Mr. Rajesh Khanna. It was very difficult to work with him those days but the subject of the film was such I felt that Rajesh Khanna would suit. I told mr Devar do not worry and I will make you meet him. I arranged for a meeting with rajesh khanna and told him about MGR working with Devar on 14 pictures, the status of Devar the producer and the great dedication with which he works in Madras and I assured him mr Devar will complete the film in 2 months. Mr Devar suggested RDB for the music but I told him Laxmikant Pyarelal suits the music needs of this film. I fixed a meeting with LP and Bakshi saab and Devar, and I must tell you that Bakshi saab within no time was ready with all the lyrics we needed for the film – within 2 weeks Bakshi saab wrote all the songs of Hathi Mere Saathi. He always delivered before he promised, such was his capacity talent and dedication. I cannot find such a person, I miss him.
Feb 7 2013. Told to me – Rakesh Anand Bakshi