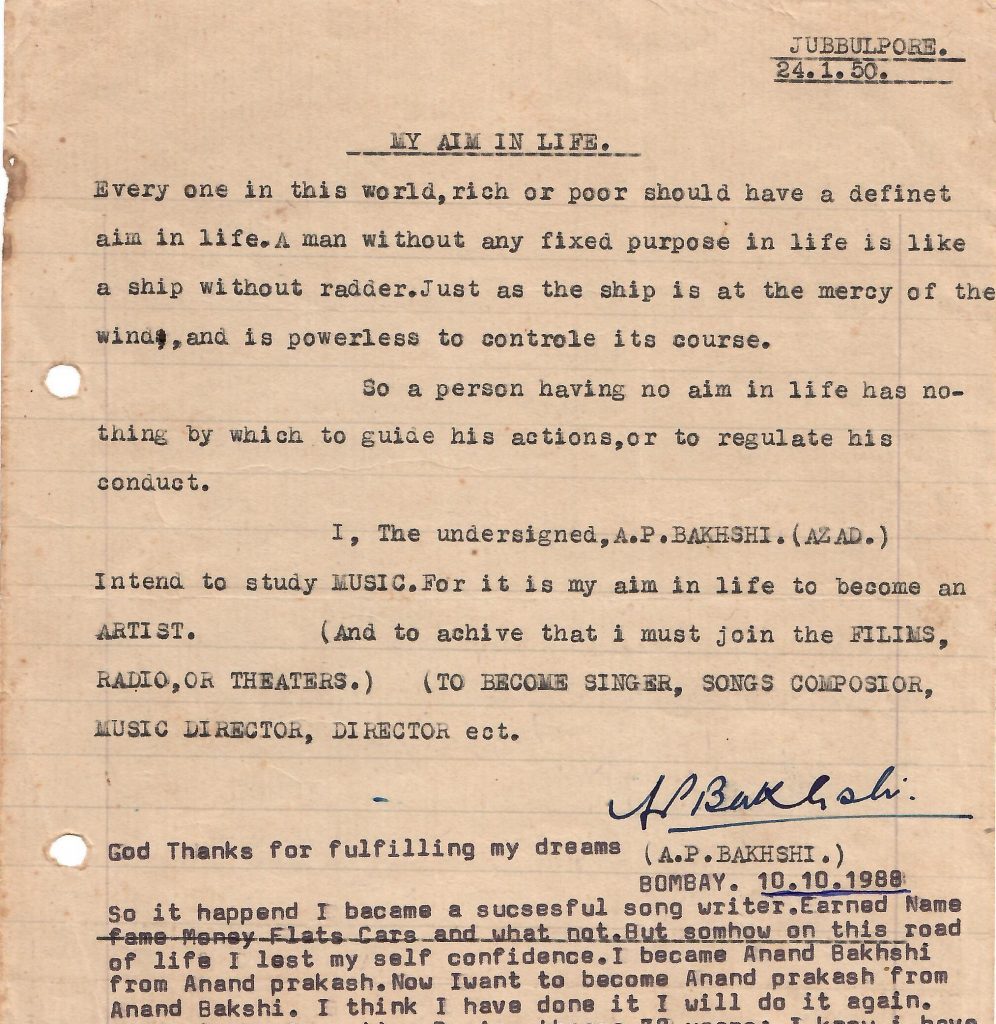 A daughter reviews her daddy's book.
This memoir about My/Our father Anand Bakshi ji the legend by Rakesh Bakshi is seeing the light of day after 18 years of his passing away. My siblings, Rajesh, Kavita and I are very thankful to the Remarkable efforts of our brother Rakesh who has been working to put our daddy's life journey on paper since 2002, with the help of memories, expressions and impressions of many of his and our Father's friends, relatives and associates; his struggles till and after he became a significant part of the film world which he dreamt of since he was a teen. Our father not only worked at fulfilling his dream, also saw to his family's needs and comforts through thick and thin. He ensured his children and wife Kamla his biggest supporter, had the guidance and financial support they need.
Rakesh traces Anand Bakshi's life with passion, tenderness and reverence. Tracing his evolution to the optimum level of creativity as a lyricist and as the family man we knew, with the assistance of some unbelievable documents preserved by our father through THE DECADES, from the time he was in school!
As I read through the well-defined chapters of his formative years as a child and his challenges up to his early years of success to finally being honoured by MR. SUBHASH GHAI WITH A CROWN ON HIS 68th BIRTHDAY AS THE KING OF LYRICISTS, I relive in flashback the last 42 years of his life which I Remember and I feel daddy is alive again!!!
This high-spirited memoir traces the life of this inimitable public intellectual whose depiction of every aspect of human relations through his SIMPLE lyrics made even a common man understand and identify with easily. His dream was to be writing till his last breath which he did. He wrote approximate 3000-3500 songs up to his passing on, 30th March 2002 and proved himself to be one in a million, rather trillion and irreplaceable. HE is much missed by not just his family, friends and associates but fans worldwide AND CANNOT BE FORGOTTEN. Which many of the latest movies having his songs recreated, remixed proves.
MY Father Was and Is MY HERO!!! AN INCREDIBLE PERSON!!!! I miss him every day. Life is different without him, but I am blessed and grateful I got to call him "daddy." That's how we addressed him
.
Suman Bakshi (Vinay) Datt – Daugher of Anand Bakshi.