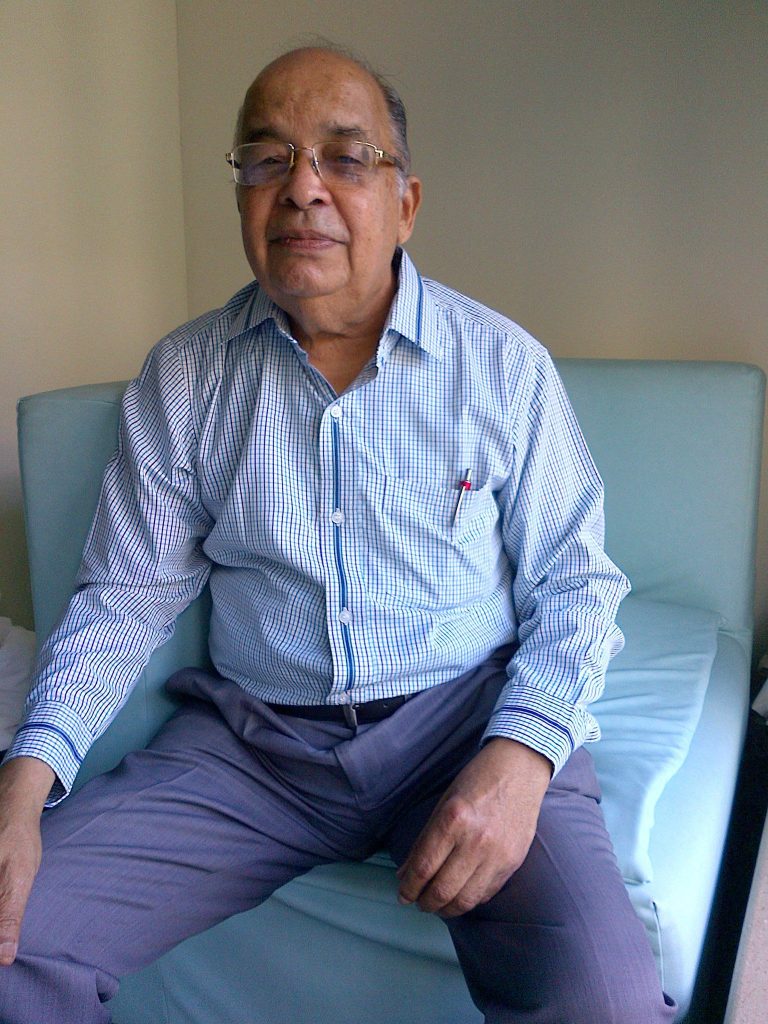 Dr Gokhale was Anand Bakshi's Family Physician from around 1972 to 2002:
DG – First time I met Bakshi saab was at his previous residence at Honey Comb, Bandra west; I was in the compound and I was to visit a doctor friend Dr Apte, who used to stay in the same building. I saw Bakshi saab cycling in the compound, sporting a red colour shirt and equally matching pant. It must be around 1971-72. He was fond of exercise and looked very handsome, was very well built, tall like a handsome Afghan pathaan. My friend Dr. Apte introduced us. That very second I felt I would click with this very polite man, somehow I felt I would be friendly with him though I was not the film profession.
Few days later Bakshi ji wanted to check his blood pressure so he came to my clinic alking from home, waited for some time and we exchanged pleasantries and I examined him. Our very second meeting was very cordial and yet it was like we have been friends for years. I was highly impressed by this man and then I found out he was the writer of so many songs I had heard on radio, and he also felt he should come back to me the next time he has some medical problem. Thereafter, I was his doctor since until he passed away in 2002, not a day has gone by I have not thought of him and his kind friendship and affection for me, his family and his friends.
We remained friends almost 30 years. He had high blood pressure and minor medical problems, and a heart condition in late 80's and then in 90's again. He would come to my clinic on hill road, bandra west, and get his blood pressure checked daily, and then after he told me 'doctor saab you come home please on Tuesday and Friday and see my blood pressure and have tea and I will pay you home visit fees.' I would get new cassettes from him from his recently released films almost every two weeks so many films he wrote! He would take me to special screenings of his films before they released almost twice a month, so many films he was working on. Because of him I began to see Hindi films. He had a release almost every month or two or three releases sometimes in a month. We became better friends and he started calling me for his home parties too where he rarely called anyone who was not a good friend because he believed in friendship and not making friends for work and to be called to his house I realized was a sincere invite and not just because I am his doctor. He was very fond of calling his close friends and relatives for new film releases in private preview cinemas. I think I must have seen all films of his with family and friends and sometimes with celebrities who used to come to those private cinema halls too. I have to give credit to Mr. Bakshi also because it was only because of him I saw films.
He was not what they call 'filmy', he was a simple home-loving person, spent almost all day at home writing, he used to love his family and friends and took care of his sons and daughters and his wife and his relatives too. He used to walk a lot daily to keep fit. And do yoga at 7am also. He was very fond of smoking, eating tobacco and he liked to have good alcohol drinks daily at night but strictly at 9pm and never before or after meals.
When it would rain he would call me and ask me, 'doctor saab free ho, kya kar rahe ho, gaadi mein jaayenge aur ek ek peg maarenge whisky ka, chalo.' So when it rained we used to travel in his imported car from Bandra to worli seaface and have a peg each of his whisky. He used to collect me and drop me home and while driving he would be talking all the way about so many things during our journey about his struggles and problems and life in general, always emotional things, always his philosophies and those he had read in the many books he read.
He had told me he was in the army and he was also a truck-Tank driver some years, driving a big truck that carries Tanks, and he told me how he came to Bombay and first 2-3 years he stayed at the railway station and then how he met a ticket conductor, Chitramal Swarup at the station and the ticket conductor asked him, 'why are you sitting here?' He said I have come to Bombay to write songs for films and I am not successful and I am going back.' Chitramal said do not go back and that ticket checker took him to his own house in Borivali west and he said you are going to stay with me and become a song writer. He stayed there for 2 or 3 years and his name was Chitramal Swaroop and he took care of your father for 2 years till he got some break in films and then he started living independently. When Bakshi ji became successful he looked after Chitramal as a friend throughout his life, not financially because Chitramal was too noble and too good and proud a man to ask Bakshi ji for any favours or take any favour from Bakshi ji for what he has done as Chitramal believed he did not do anything special for the stranger he met on marine lines station and just believed that Bakshi ji can be a good writer someday and so must not give up because he has run out of money in bombay. Whenever Bakshi ji would travel anywhere in India by train he used to take Swaroop bhai with him and his family and he would look after all his needs on these many many journeys.
Bakshi ji always spoke highly of all the people who helped him, and he was very hurt by the many who did not help him and he would cry thinking of those bad years. In those hard days he told me how he got his first break from an angel called actor Bhagwan Dada. Bakshi ji used to go to Ranjit studios and sit outside the gate and try to meet producers and directors to tell people he is a song writer and would narrate them his poems. One day what happened was that Bhagwan Dada was shooting for his film Bhala Aadmi, and Bhagwan Dada's song writer did not come and he was angry. Bhagwan dada found out some struggler is waiting outside his office for a break as song writer so he asked Bakshi saab to come in and told him if you are a writer then prove it and write me a song right now. Nikaalo sab pen aur paper aur likho gaana abhi. Then your dad wrote songs and there were some musicians there and they tuned it and the tune was also good what Bakshi ji wrote and that's how Bhagwan Dada told Bakshi ji to write three more songs, and that became his first film just by luck or hard work or whatever. Bhagwaan dada liked him and he said now you only write all the remaining 4 songs in my film. He wrote some 4 songs and he was given 150 rupees for all 4. 150 rupees those days were equivalent to 15000 rupees today I think.
Bhalaa Aadmi (Bala Aadmi/Bhalaa Aadmi 1958)
(Unity Films/Brij Mohan) (Director Master Bhagwan) (Cast: Chandrashekhar, Anita Guha, Bhagwan, Kum Kum, Ulhas, Protima Devi, Kumar and Shyam Kumar)
Four songs lyrics by AB.
Date of first recording 9.11.1956
Lyrics: Dharti Ke Lal Na Kar Itna Malaal, Tu Dharti Ke Liye, Dharti Tere Liye. Singers Bhooshan (Bhushan) and Party (Sound recordist: Minoo Katrak)
Thereafter Mr. Bakshi started writing some more films but only after another few years so he had a very bad struggle for many years almost ten and after 1962 or 1964 he never looked back and always in great demand. I can say he worked as hard all his life even though he became rich and famous at heart he remained a labourer for his producers and his family until he passed away. I found out he wrote a song one month before he died for subhash ghai from his bed lying down with 103 fever and asthama and heart problem, such was his fierce determination to write.
I remember clearly, he said he also was a truck tank driver in army years and he would write songs during his military years and sing them in his own tunes during army programmes and concerts. And one day he felt he should leave military and become a song writer in bombay and left the army at jubbolpore cantonment HQ.
He used to stay in a clean chawl in Borivali and in 1 room house with Swaroop and sometimes he used to sit all day inside the house and just write and then he would go to different places to seek work and first break. His compositions used to be very simple, I am a lay man and I do not understand anything about films and yet I knew that much about his skill. Let me give you an example of what I, a doctor for lower and middle class and rich people call simple, I was highly impressed by that simple song he wrote 'prem kahani mein ek ladka hota hai ek ladki hoti hai kabhi dono haste hai kabhi dono rote hai.' How simple and yet how true and fairy tale like is the writing I thought when I heard it, and yet it had depth of immense love for a beloved.
His songs became so popular that I think in 70's there was not a single film where his name was not appear I think, I could be wrong but I think that. Because, whenever I would play the radio, two names I always heard every hour and day was Anand Bakshi and laxmikant pyarelal, so I am basing my judgement on what I heard on radio. A lot of music directors followed him and he became the darling of film songs in India I can say. He was always fond of good food and drinks and smoke and paan and writing, all with the same passion. What a passionate man I tell you.
What really impressed me was how fast he used to write songs. Tuesday and Friday when I used to check his blood pressure and it takes 1 minute to take blood pressure. In that one minute I have seen him write 3 to 4 verses! And he used to write only in Urdu. I did not understand urdu so I would ask him what have you written so fast while I am checking your blood pressure, and he would sometimes narrate the verses to me and they used to be often 3 to 4 verses he has written in front of me while I was holding his one arm checking his blood pressure with my pump action BP apparatus. What speed! And what dedication he had I tell you! He would not fuss when I would check his pressure that he has to write songs and I should hurry up, he would let me do my job and he would do his without making it seem important. He would write like he is breathing, effortlessly. That used to show his creative abilities. I am telling the truth and m God is my witness. I was amazed at this. He was so creative and he knew the pulse of rich and common people. Because I realized he would write what so many people liked. Many people feel film songs are written without thinking as they are not poetry but I say, even though I am just a doctor, he thought before writing one because if you analyse his songs every song had a meaning and many have deep meanings. If he is not able to write a song sometimes, he would not try to write for a few days and read books in that time and relax with family and then all of a sudden it used to come to his mind and he used to finish the song in minutes. He was a great creative song writer. Mr. Subhash Ghai told me after Bakshi ji's death, 'doctor saab it is difficult to make a film because I do not know a song writer who can write as good as Mr. Bakshi. So there is a big void in the film industry.'
One anecdote I will tell you about Bakshi ji, I was at my home and Bakshi ji called me that he cannot raise his right hand.
I rushed there and I found that he was almost going into paralysis! I examined him, we decided to rush to the hospital.
He asked me to wait one minute, and told your mother to make him one chuna and tobaco laden paan! In front of me, his doctor whom he had called in emergency!
I scolded him, Bakshi ji you should not eat tambaaku ka paan now, it will worsen your heart condition. But he also smoked a cigarette right then! I was panting and anxious not knowing what is going to happen to this very stubborn man. The responsibility was on me, as I was also his family doctor.
He had the tobaco laden paan too after his cigarette and tried to pacify me with… 'Doctor saab, paan emergency mein kaam aata hai.' As a medical professional I could not understand his foolish logic.
We left for the hospital, as we entered the ICU he collapsed. He was revived soon and he was treated over a few weeks and returned home happily back to his daily walks, writing and had stopped having tobaco. Good sense had dawned on him.
On one of my subsequent visits, I asked your mother the logic behind his eating paan during a medical 'emergency'. What your mother told me baffled me further, 'Yeh roz subah ek tambaku wala paan banwate hein, aur usse apne paas rakhte hein, aur din bhar usse khaate nahin, aur shaam ko usse phek dete hain. Roz aisa karte hain.' Your mother was annoyed why he makes her make a paan for him daily which he does not eat!
Bakshi ji was presnt and laughed and said, "Emergency mein paan aur doctor dono kaam aate hai! That day I would have died before reaching the ICU. Because I had that paan I managed to reach it. I came home alive because you let me have that paan before we left! Yeh paan mere emergency ka saathi hai, jaise aap hain dr saab."
When I used to come to see him for his BP sometimes I would meet celebrities at his house who were working with him, and one thing I must say Bakshi ji made it a point that he never went to a producers house, producer's would come to meet him, he never asked anyone for work he said.
He was very concerned about his friends. Whenever I was unwell, he was the first one to come and see me. He was a very big name in the industry and I was just an ordinary family physician. He need not do anything for me and yet I would have had to attend to him being his doctor and friend. Yet he would come. He could call and ask me how I am. He had a great liking for me. Every party of his I was always called, though I could not entertain him or his friends yet he made me feel my presence and I was important to his life, I was not a celebrity but he always felt I should be there in his parties and film previews.
How can I forget such a man. There is not a single day when I have not remembered Mr. Bakshi. I used to remember his birth date as 21st July and his death anniversary as 30th March. I do not remember only on those 2 days. After death I must be remembering him for 360 days. If the year had 500 days I will remember him at least 495 days I know. Arre, what remember him, I still feel Anand Bakshi is around and I sometimes I ask my family members that Bakshi saab will just appear to me someday.
Oct 1st 2012. At my residence, Rakesh Anand Bakshi.