Poem Anand Bakshi wrote to inspire himself in the beginning of his career.
Woh Tadbeerien nahin hotin
"Jo tadbeeron se phir jaaein woh taqdeerein nahin hotin
Badal dein jo na taqdeerein woh tadbeerein nahin hotin

Mohabbat ke mahal ka to tassavur bhi nahin asaa-n
Wafa ke taj ki aasaan taamirein nahin hotin

Rihaai ka musammam azam (ahed) kar letey hain jab qaidi
Toh kaaraamad sitamgaaron ki zanjeerein nahin hotin

Mohabbat ka taalluq rooh se makhsoos hota hai
Yeh dil ki baat hai aur iss pe taqreerein nahin hotin

Samajh bhi lein mohabbat ko toh hum samjah nahin saktey
Kitab e Ishq ki lafzon mein tafseerein nahin hotin

Khuloos aur sadqe ke sajdon mein taseerein jo hotin hain
Dikhawe ki ibadat mein woh taseer nahin hotin

Khud unki dee-d se Bakhshi tassavur unka behtar hai
Ke itni be-murawwat unn ki tasveerein nahin hotin"
This poem was used in a film song, in an unreleased film Ek Hindustani (2001). Only the music was released in 2001. (Produced by Amar Sharma; Directed by Tinnu Anand; Music Anand Raj Anand.)
(SUCH ARE NOT THE PLANS
Such is not fate which is altered by plans
Such are not the plans, that do not alter the fate
Hard to even imagine the picture of castle of love
Hard to even build the crown of love
When the prisoners make firm commitment of freedom
Then no chains of oppressors can stop them
Translated by Umar Riaz (Pakistan) – Maria Memon.)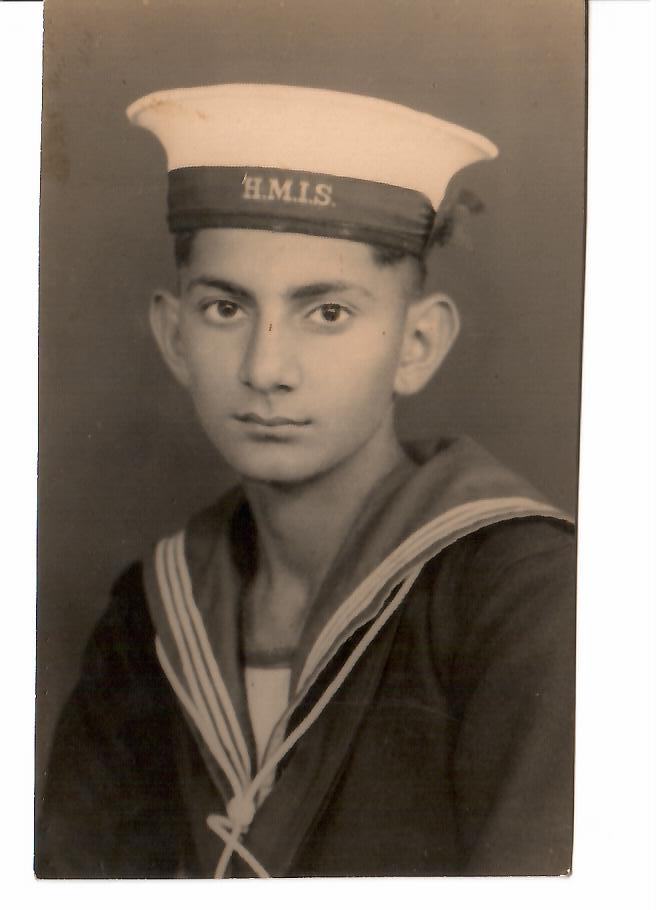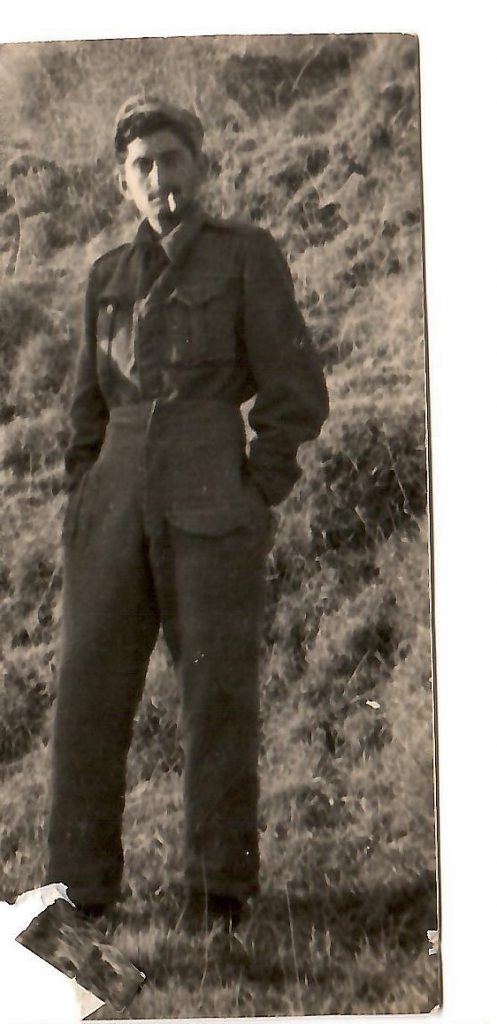 CORPS SONG https://youtu.be/lBw0NSlGn6M
Mukhrha
Main ik Hindustani bas, yeh hai meri pehechan
Jaan hai sabse pyari, Jaan se pyaara Hindustan.
1 Mere Mann mein bheti Ganga
Mere sar pe ude Tiranga.
Is paawan Dharti ko chume jhuk kar Aasmaan.
Main ik Hindustani bas, yeh hai meri pehechan
Jaan hai sabse pyari, Jaan se pyaara Hindustan.
2 Hindu Muslim Sikh Isaai
Hum sab ik duje ke bhaie
Alag alag hai Naam hamare ek magar hai jaan.
Main ik Hindustani bas, yeh hai meri pehechan
Jaan hai sabse pyari, Jaan se pyaara Hindustan.
3 Ye mat samjho main Darta hoon
Jung se main nafrat karta hoon.
Aa hi jae Aandhi, toh main ban jaoon Toofan.
4 Prem ka panchi Aman ka Raahi
Main ban jaoon ek Sipahi
Mera naam pukare, jab Rannbhoomi ka Maidaan.
5 Yeh Na Socha Yeh Na Dekha
Mera Desh mujhe kya Dega?
Apna Desh agar mange, toh de doon Hans ke jaan.
6 Is Dharti par janam liya hai
Is Dharti KO Wachan diya hai
Is Dharti par hans ke Main ho jaoonga Qurbaan.
7 Mere Jeewan ka yeh Sapna
Sare Jag mein Naam ho Apna
Sari Duniya mein unchi ho Mere desh ki shaan.
8 Jism se jaan agar nikle toh Mera
Naam Shaheedon me ho.
Aise jeene aise Marne mein hai Kitni Shaan.
9 Yeh dharti, Khushbu hi khushbu
Ye Ambar, Jaadu hi Jaadu
Inn Galiyon mein Khel ke Mera Bachpan hua jawan.
10 Rishiyon Sufiyon ki yeh Dharti, sari Duniya yaad hai karti
Apne Purkhon ke itihas pe, mujhko hai Abhiman.
Anand Bakhshi.
मैं इक हिंदुस्तानी बस, यह है मेरी पहचान
मुखरहा
मैं इक हिंदुस्तानी बस, यह है मेरी पहचान
जान है सबसे प्यारी, जान से प्यारा हिंदुस्तान
१ मेरे मन में बहती गंगा
मेरे सर पे उड़े तिरंगा.
इस पावन धरती को चूमे झुक कर आसमान
मैं इक हिंदुस्तानी बस, यह है मेरी पहचान
जान है सबसे प्यारी, जान से प्यारा हिंदुस्तान
२ हिन्दू मुस्लिम सिख ईसाई
हम सब इक दूजे के भाई
अलग अलग है नाम हमारे एक मगर है जान
मैं इक हिंदुस्तानी बस, यह है मेरी पहचान
जान है सबसे प्यारी, जान से प्यारा हिंदुस्तान
३ ये मत समझो मैं डरता हूँ
जंग से मैं नफरत करता हूँ
आ ही जाए आंधी तोह मैं बन जाऊं तूफ़ान
४ प्रेम का पंछी अमन का राही
मैं बन जाऊं एक सिपाही
मेरा नाम पुकारे, जब रणभूमि का मैदान
५ यह ना सोचा यह ना देखा
मेरा देश मुझे क्या देगा ?
अपना देश अगर मांगे, तो दे दूँ हंस के जान
६ इस धरती पर जनम लिया है
इस धरती को वचन दिया है
इस धरती पर हंस के मैं हो जाऊँगा क़ुर्बान
७ मेरे जीवन का यह सपना
सरे जग में नाम हो अपना
सारी दुनिया में ऊँची हो मेरे देश की शान
८ जिस्म से जान अगर निकले तो मेरा
नाम शहीदों में हो
ऐसे जीने ऐसे मरने में है कितनी शान.
९ यह धरती, खुशबु ही खुशबु
ये अम्बर, जादू ही जादू
इन् गलियों में खेल के मेरा बचपन हुआ जवान
१० ऋषियों सूफियों की यह धरती, सारी दुनिया याद है करती
अपने पुरखों के इतिहास पे, मुझको है अभिमान
आनंद बख्शी ( ईयर २००१ )
In 2001 he was invited by the Corps of Signals, to write a 'Corps song/poem' to motivate our soldiers. They said it will be displayed at a "Bakshi Corner" in their existing Corps Museum, (of the Corps of Signals, Indian Army). Anand Bakshi wrote this poem: Confirmation of this fact we received via Letter no. 1059/01/ 26 dated 15 Jan 2001, from Colonel K. Bhattacharya, Commanding Officer, Corps of Signals, 1 Technical Training Regiment & 1 Signal Training Center, Jabalpur.
Poem he wrote on the spot for his ex army mates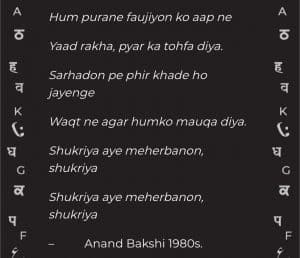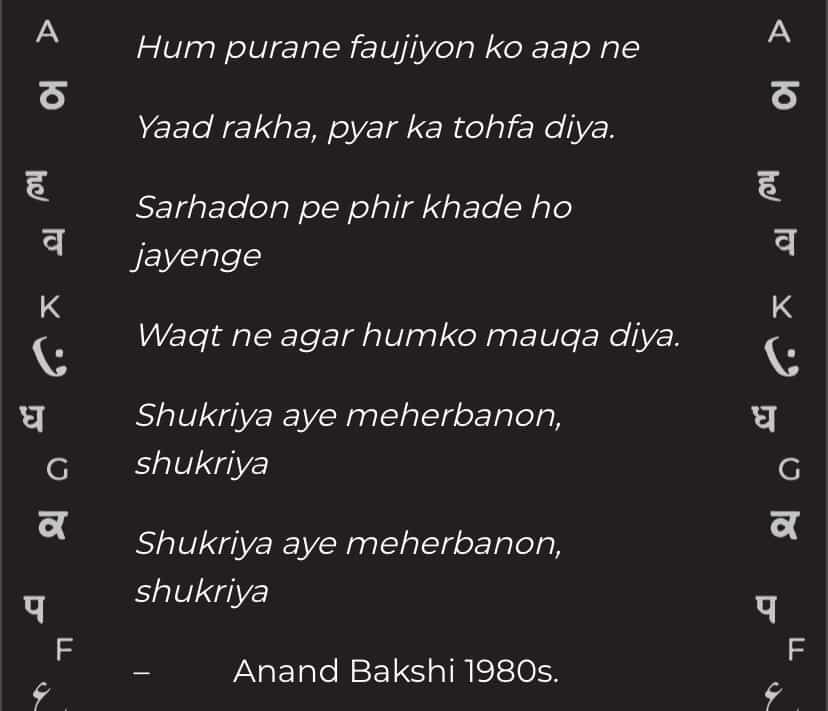 Audio https://chirb.it/8t1CAM
हम पुराने फौजियों को आपने
याद रखा, प्‍यार का तोहफ़ा दिया।
सरहदों पे फिर खड़े हो जायेंगे
वक्‍़त ने अगर हमको मौक़ा दिया।
शुक्रिया ऐ मेहरबानो शुक्रिया
शुक्रिया ऐ मेहरबानो शुक्रिया


Signals Core Geet by Anand Bakhshi
His fair journal during his years with the Corps of Signals: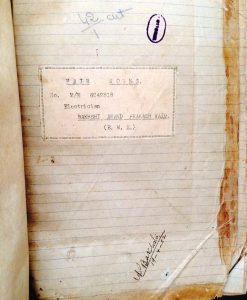 The army-trunk (suitcase) he travelled to Bambai with:
Poem written for his army comrades, passionately recited by radio presenter Arvind Balasubramanian (Radio One, Kolkata)