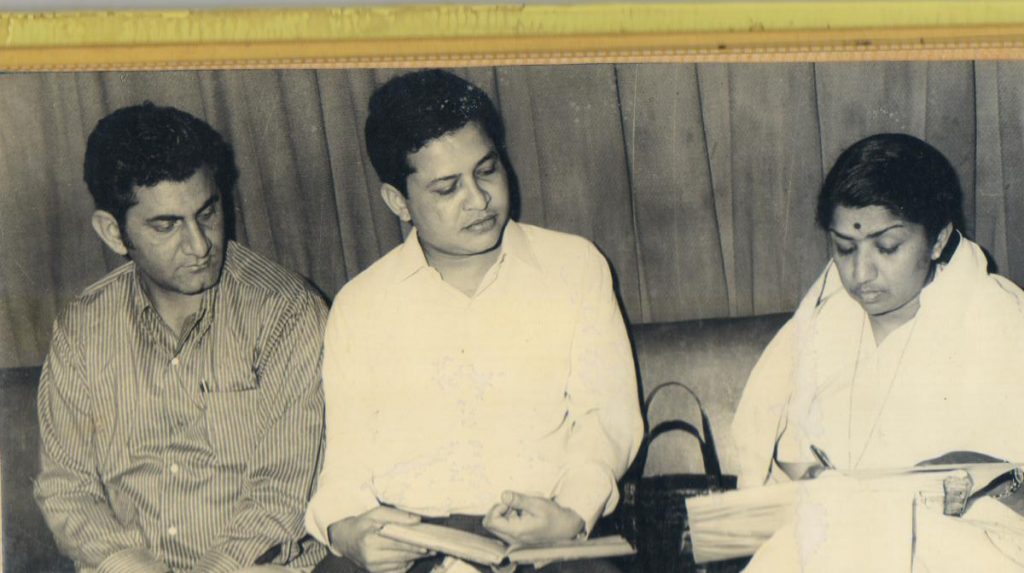 LM – Main gayi thi baahar London ya America meri shows the. Yeh gaana Kavita Krishnamurthy ne gaake rakha tha fir mujhe gaana tha. main jab vaapas aai tab Raj saahab baahar gaye the. Laxmi ne kaha hum record karte hai. Toh humne yeh gaana record kiya. record karne ke baad Raj sahib ko laga ki mere saamne nahi hua toh unhone gaana hi nikaal diya aur fir doosra gaana rakha, aisa kuch hua tha.

RB – Daddy ke bare mein aap kuch kehna chaahte hai.
LM – Anand Bakshi ji ko main sabse pehle mili thi Kalyanji Bhai ke ghar mein. tab woh bahot patle the aur mujhe unka sur yaad hai ki woh kaise gaate hai. Woh mere saath bahot kam baat karte the. Fir kya hua ki beech mein thodi si gap hui aur baad mein Laxmikant Pyarelal ke saath mile. Vahaan woh roz recording mein aate the woh suggest karte the yeh thik hai aur yeh nahi hai. Gaate bhi the. Mere saath gaya bhi tha unhone duet, baahon mein bahaar aayi. Ek solo bhi gaaya tha unhone woh picture mein. Mom Ki Gudiya mein gay atha aur shaayad usmein actress Tanuja thi.

RB – Aapka experience kaisa tha?
LM – Hamare itne ache sambandh the, ki jab pehle Laxmi ne kaha, woh mazaak kar raha tha, maalum hai aapke saath kaun gaa rahe hai? Maine kaha kaun? Unhone kaha Anand Bakshi ji gaa rahe hai. Au rmaine kaha bahot achi baat hai par maine suna nahi hai unko. Toh sab mazaak kar rahe the ki kya gaate hai aur unko chedd rahe the. Bakshi saahab ne gaaya mere saath aur hota hai na kabhi kabhi ki Lata ke saath gaa rahe aur aisa kabhi darr hota hai, har naye aadmi ko. Woh bahot free the aur aaram se gaaye aura cha gayaa.

RB – Shaayad khud likha ho toh lafz ache nikalte hai.
LM – Gaana woh samajhte the. Kayi baar dekha tha ki kuch tarze ( tune) woh dete the Laxmikant ko. Jab likhte the unko koi purana gaana yaad aaya toh woh batate the. Baagon mein Bahaar shaayd unka hi gaana tha. unko woh bhi ek gift that ki woh bata sakte the. Mere saath unke bahot ache relation the.

RB – Woh hamesha aapko Waah ji waah kehte the.
LM – Haan. Yeh aapne acha yaad dilaya.
RB – Maine ek article mein padha tha. Aap Bangalore se aae the Bombay mere sister ki shaadi attend karne, Belgaum se. Specially aap aae the. Padha tha maine paper mein.
LM – Sahi baat hai. Wahi se main shaadi pe pahoch gayi thi. Unke hamare bahot ache sambandh the.
RB – Aapka Favorite song kaunsa hai Bakshi saahab ka? Mere jo Favorite hai woh hai, 16 baras ki baali umar ko salaam, bindiya chamkegi. Aap kuch kehna chahenge uske bare mein?
LM – Pehle aap apne sab selections bata dijiye.
RB – Fir, tu kitni achi hai kitni bholi hai pyaari pyaari hai oh maa, woh best gaana hai, fir bhor bahe panghat pe mhore natkhat shyam sataye Satyam Shivam SUndaram, maar diya jaae ki chod diya jaee bol tere saath kya sulook kiya jaae, Mere Khwaabon mein jo aae from DDLJ, Megha re Megha Re from Lamhe. Aapke bahot gaane hai kam se kam 1000.
LM – Haan bahhot gaane gaaye hai maine unke. Par aapne jo nikaale hai usmei mujhe Mere Khwaabon mei jo aae bahot acha lagta hai. Uski tarz bhi achi hai aur likha hua toh hai hi acha. Mujhe unka woh gaana acha lagta hai Mere Haathon Mein Nau nau chudiyan hai, kitni achi hai kitni bholi hai bahot acha tha. yeh mujhe thoda kuch yaad nahi aa raha hai par sant gyaneshwar mein unhone likha tha?
RB – Nahi.
LM – Kyunki hame pata nahi chala tha kisne likha hai. Hum likh bhi nahi lete the. Kuch kavi aise the jinke gaane woh khud aake batate the, Pradeepji jaise the, Majru saahab, toh maalum hota tha Majru saahab ka hai. Bakshi ji ne mere khayaal se Yashji ke saath bahot kaam kiya hai aur Yashji unse bahot khush the.
RB – Main abhi 1 mahine pehle Yashji se mila, unke aankhon mein aansu aa gaye,
LM – Bahot pyaar karte the Yashji aur hame kehte the Anand Bakshi ji hai toh mujhe koi darr nahi hai, gaana acha hi hoga. Kya gaane likhe hai unhone.

RB – Sahi mein. Chandni, Darr, Lamhe, DIlwale, Dil Toh Paagal Hai, Mohabbatein.
LM – Lamhe mein tha, Chandni mein the, Darr mei woh gaana bahot acha tha mere ar Udit ka duet, Tu mere saamne main tere saamne. Aur chandni mein woh gaana tha, Tere mere hothon pe meethe meethe geet mitwa. Woh gaake batate the. Uss din recording pe aae the. Aur hum log gaa rahe the meethe meethe, unhone kaha ki meetthhe meetthhee kahiye.
Par Bakshi ji mere saath bahot ache se aur pyaar se baat karte the. Mujhe ab bhi yaad hai mujhe jab Padmavibhushan mila tha, unhone ek function kiya tha, Andheri mein koi club hhai, Bakshi ji aae the toh thoda sa drink kiya hua tha unhone, main khadi thi toh mere paas khade ho gaye. Function khatam ho gaya aur sab jaa rahe the. Aur phir unhone mere upar jo kavita likhi thi woh jor se gaake batai.
RB – Not in front of the audience? Sirf aapke liye?
LM – Nahi, mere saamne khade hoke. Baaki log aake paas khade ho gaye aur sab kehne lage kya acha likha hai aur sab waah waah kar rahe the. Aur main kabhi recording ke liye jaati thi aur agar woh baithe hue hote the jaate hi kehte the waah ji waah kya baat hai.
Date: September 2012, at her residence.
(1st song of #AnandBakshi + Lata Mangeshkar was composed by Roshan for the film Warrant 1961. Minoo Kartik was the recordist. Hoton pe hasi, palkon pe haya, aakhon mein shararat reheti hi… It was recorded on 6.11.1959 and was a hit song!
https://www.youtube.com/watch?v=8En0L2_gmEI&pbjreload=10 )
Tribute paid by Lata ji to Anand Bakshi on his passing away on 30 th March 2002:
When it was Bakshi ji's daughter's (Suman Datt's) wedding, mid 1970's, he insisted I come. So, I travelled by car from Kolhapur to Belgaum, then took a flight to Mumbai to attend the wedding.
When he sang a song with me in "Mom ki Gudiya", "baghon mein bahar ayee", he approached me before the recording and told me, since I am singing with him, the song will be a big hit. He sang very confidently, even though it was his first time singing professionally, and that too with an established singer like me, he was not at all nervous, as sometimes people do feel nervous when they sing for the first time with an established singer, he was not at all nervous. I was pleasantly surprised how confident and well he sang.

Bakshi ji was very blunt, spoke little, lost his temper quickly. He would never compromise. Bhut shareef aadmi the. He would tell me, "My philosophy in life is SIMPLE LIVING, HIGH THINKING." This philosophy was reflected in his lyrics too. Even if the listener was a stranger to poetry, he could understand Bakshi ji's lyrics.
Over the years, trends changed, but Bakshi saab went on and on and on. Yet he wasn't the kind to blow his own trumpet. We all wish he had got little more recognition during his lifetime as a lyricist and poet. He wrote so well, so consistently, it seems he has always been there, writing my songs. I've sung more of his songs than any other lyricists.
Some of his songs are my favorite:
Jaane kyon log mohabbat karte hain – mehboob ki mehendi
Baaghon mein bahar hai, kaliyon mein – aradhana
Tu mere saamne – darr
Tere mere honton pe – chandni"

He never interfered with anyone during recordings. He was one of the few lyricists that made it a point to attend all his recordings, and when necessary, suggest changes in expressions to singers, who he thought had not comprehended his words completely, or pronounce them correctly.
When I was recording "tere mere honton pe, meethe meethe geet mithwa", for "chandni", he came up to me and asked me to pronounce the word 'meethhe' hard, with a strong 'thh', instead of a softer one. His suggestion made a world of difference to the song!
Whenever he would meet me, he would greet me with, "Wahh Ji Wahh".
When I received the Padma Vibhushan in 2001 (he wrote this poem in 1973) he presented this poem, he wrote for me, post the awards ceremony by narrating it to me personally:
"Ye gulshan mein baad e saba gaa rahi hai
Ke parbat pe kaali ghata gaa rahi hai

Ye jharno ne paida kiya hai tarannum
Ke nadiya koi geet sa gaa rahi hai

Ye Mahiwaal ko yaad karti hai Sohni
Ke Meera bhajan Shyam ka gaa rahi hai

Mujhe jaane kya kya gumaa'N ho rahey hain
Nahi aur koi, Lata gaa rahi hai

Yunn hi kaash gaati rahein ye hamesha
Dua aaj khud ye dua gaa rahi hai"
Bakshi ji presented this poem to me in 2001, when I was honored with the Padma Vibhushan, he narrated it to me while presenting it to me post the award ceremony at the venue, itself after the award ceremony.