Daddy's love was the shade of flowers for us.
This effort (Anand Bakshi's filmography attached at the bottom of this page) is the gratitude I owe by daddy for the values and comfort we all received from him, and the affection his fans share for him and the people who co-created his songs, the music composers, musicians, singers, directors, actors, writers…. of his films. Primarily, Daddy's love was the shade of flowers for us.
Moreover, when daddy was around, I knew him just as my "Daddy", not as 'geetkar Anand Bakshi, the lyricist"; this effort, over 18 years has introduced me to daddy as the lyricist and gradually I became his fan too; a massive fan! This effort by me is dedicated to his fans, to my daddy, to his poet (ghazals) & editor friend Bismil Saeedi (fromTonk and Delhi) who nurtured him in writing shayari, and his dear friend (Indian Western Railway ticket collector) Chhitar Mal Swaroop (of Agra & Bombay).
Thanks also to the songs' co-creators – music composers, singers, directors, musicians, sound recordists, story writers, producers, cinematographers, actors….. it is always team work, no one is an island.
Last but not the least, it is dedicated to our mother, Kamla Mohan Bakhshi, my dad said about her "Kamla is the pillar of my career, life and our family. I achieved whatever success I did because of her constant support right from the days of me having no livelihood in films. She raised our first two children in Lucknow hundreds of miles away from me when I could not afford to have her stay with me during my nearly 7-8 years of finding film related work in Bombay, nor was I able to send her enough money to support herself and our children then."
The filmography of his nearly 630 films' 3000 plus songs is at the bottom end of this page, you can download it as a PDF document.
Many of the songs listed in the PDF (filmography) are available on this YouTube playlist created & curated by me (thanks to so many amazing passionate music lovers, and music publishers uploading these songs, music lovers without the agenda of financial gain, a massive thank you to them from all his fans and my family, and BIG thanks to those YouTubers who mentioned his name and that of the composer too in the credits ), and the Spotify playlist below:
YOUTUBE PLAYLIST:
SPOTIFY PLAYLIST:
ANAND BAKSHI'S Songs/634 Films(Playlist by Rakesh Bakshi)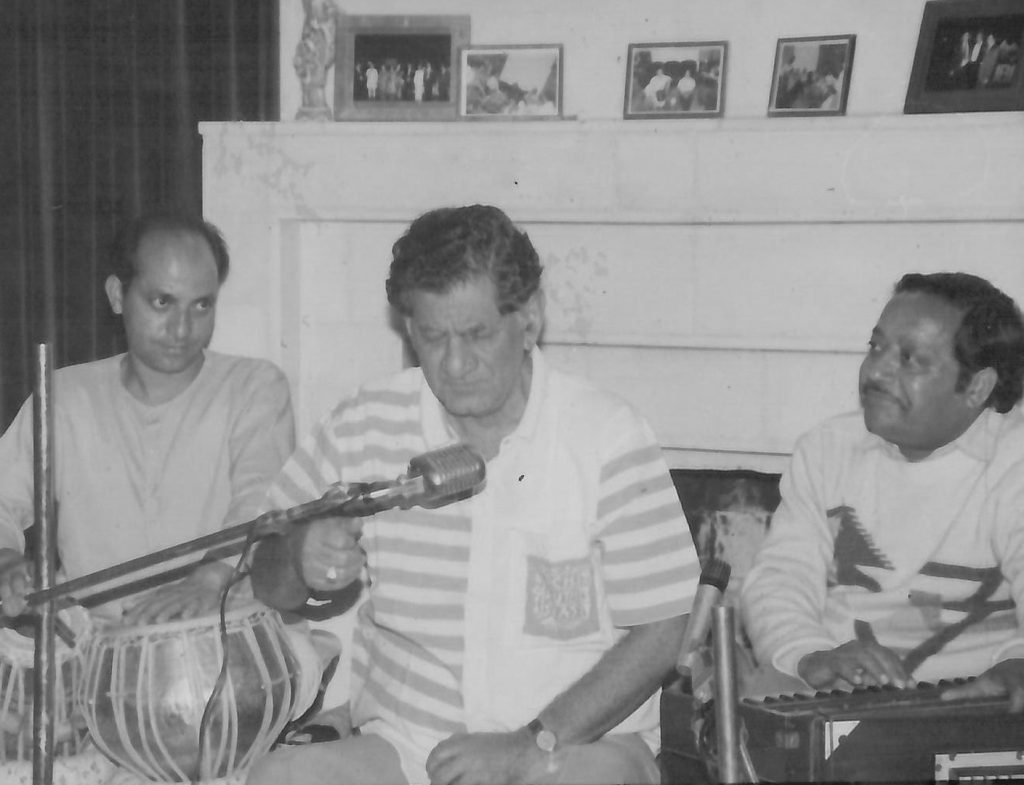 Dad, with the foundation and pillar of our family, our Mom: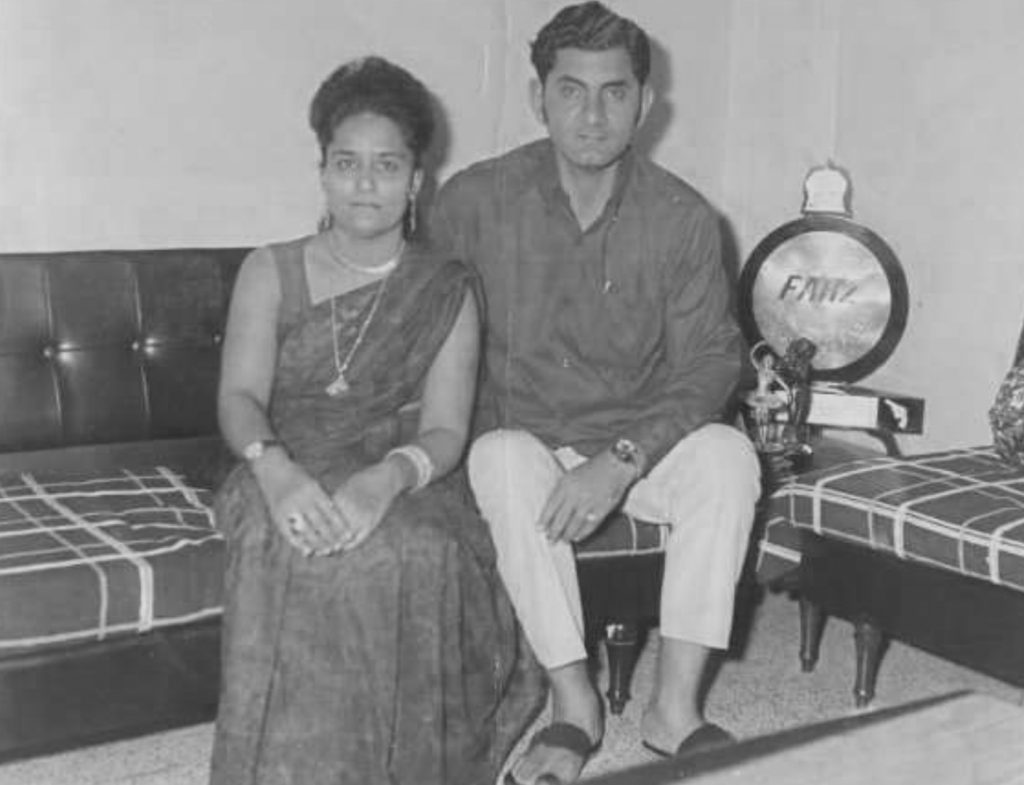 Creators of songs (lyricists and music composers in particular) most often don't receive credit on many public platforms, radio, YouTube uploads, etc It is important for me to publish this list of nearly all Anand Bakshi's songs and films, and name the singers and composers who co-created them, because even he named them in his own data base which he maintained of nearly all his song recordings from 1956 to 2001, that is the kind of RESPECT he had for his co-creators. I have used this data base of his to create this document you are reading.
Here is a published feature that reflects my opinion that lyricists and music composers are most often not:
… this feature is from the family of other lyricists:
Songs highlighted in the PDF (filmography) in bold are hit or popular songs of that time, as noted by Anand Bakshi in his typewriter and hand written notes he maintained of nearly every song for nearly 5 decades. He would update these dates regularly on a weekly or monthly basis, sitting on his bed, just like he wrote most of his songs seated on that same bed. Never used a 'writing desk", except in the 60s.
I stopped mentioning date of recordings from 1972 onward as I got tired to constantly looking up his record, it was too time consuming. I rather spend that time looking up the songs' links on YouTube, time is too precious. However, for some songs I too felt are iconic or I have a personal memory with I mentioned it's date of recording.
If you feel I have missed some songs and or films in this list, or credited a song wrongly to him, please do let me know, email me, help me better this effort/list, thank you, regards; RakBak16@gmail.com
My suggestion: These songs (film songs) can be appreciated best if you see the film, because they, being film songs, were written primarily and mostly in context to the story, characters and song-situation.
Anand Bakshi's unreleased songs:
Anand Bakshi's association with (nearly 95) Music Composers:
304 films with LP. Laxmikant & Pyarelal, 1680 songs.
99 films with R D Burman.
34 films with KA. Kalyanji & Anandji.
24 with Anu Malik.
14 with S D Burman.
13 with Rajesh Roshan.
8 with Bhappie Lahiri.
8 with Viju Shah.
9 with Anand & Milind.
7 with Roshan.
7 with Jatin & Lalit.
7 with S. Mohinder.
6 with N. Datta. (Datta Naik)
6 with Uttam Singh.
5 with Shiv & Hari.
4 with Dilip Sen & Sameer Sen
3 with A R Rahman.
3 with Ravindra Jain.
3 with Usha Khanna.
3 with S D Batish (Nirmal Kumar)
3 with Nikhil Kamath & Vinay Tiwari.
3 with Anand Raj Anand.
2 with Chitragupt.
2 with C. Ramchandra.
2 with Anil Biswas.
2 with Sardul Qatra.
2 with M. M. Kareem.
2 with Nadeem & Shravan.
2 with Darshan Rathod & Sanjeev Rathod (Sanjeev Darshan).
2 with Datta Ram (Dattaram Wadkar)
2 with Amar Utpal
2 with Naushad
2 with Sajid & Wajid.
2 with Surendra Singh Sodhi.
1 with Shankar & Jaikishen.
1 with Vishal Bhardwaj.
1 with Ismail Darbar.
1 with Rahul Sharma.
1 with Nusrat Fatheh Ali Khan.
1 with Sukhwinder Singh.
1 with Salil Chowdhary.
1 with Nissar Bazmi.
1 with B N Bali.
1 with Ravi.
1 with Bulo C. Rani.
1 with Lachhiram.
1 with Vasant Desai.
1 with Raju Singh.
1 with G S Kohli.
1 with S N Tripathi.
1 with Dhansingh.
1 with Kishore Kumar.
1 with Sameer Phatarpekar.
1 with Anjan Biswas.
1 with Neeraj Vora & Uttank Vora
1 with Babloo Chakravorty.
1 with Agosh.
1 with Tapun. (Tabun Sutradhar?).
1 with Vasu Mano. (unreleased?)
1 with Adnan Sami (incomplete/unreleased)
1 with Amjad Ali Khan. (incomplete/unreleased)
This comprehensive document (both PDF's attached) has been curated by me, Rakesh Anand Bakshi, over two decades, I have been writing it since 2002… Please do not use this information I have provided here for commercial reasons; you cannot upload this document and information on any public or private platform, you cannot publish it anywhere without seeking my permission in writing. Legal action will be taken by me if you do not adhere to my sincere request. Please respect my efforts, it has taken me 18 years to put together this data for our family, his fans and music lovers.
Daddy's love was the shade of flowers for us.
Thank you. Regards.
(WITH BEST WISHES FROM – RAKESH & RAJESH ANAND BAKSHI, SUMAN VINAY DATT, KAVITA SANJIV BALI, VINAY DATT AND SANJIV BALI.)
 Thanks again to the songs' co-creators – music composers, singers, directors, musicians, sound recordists, story writers, producers, cinematographers, actors….. it is always team work, no one is an island.
– Rakesh Anand Bakhshi
(Rakbak16@gmail.com)
His favorite player, he heard his newly recorded songs on this simple device:
dekha yeh ghar toh oonche,
This verse was deleted from the film later. (TAQDEER) – LP/M Rafi
https://youtu.be/0wtBIrv0zAU
There are a few unreleased songs from released and unreleased films I have made available on his YouTube channel for listeners, as they belong to you all. Songs of Mahesh Bhat's Dhun, Hiren Khera's Hey Ram, Raj Kapoor's Satyam Shivam Sundaram and others. The song from Dhun by Mehdi Hassan, Talat Aziz and one from Hey Ram by Lata Mangeshkar and Mohammed Rafi are two spiritual lyrics that are amongst his best writing, moreover, reflect the soul of the daddy we the family were privy to. I wish you look them up. Stay inspired.
Some of my favorite films of Anand Bakshi and people he teamed with to co-create those songs are from these films:
1959
Bhala Admi, C.I.D. Girl, Ek Armaan Mera, Lal Nishan, Maine Jeena Seekh Liya.
1960s
Mehlon Ke Khwab, Jasoos, Zameen Ke Taare, Razia Sultana, Warrant, Banke Sanwaria, Aaye Din Bahaar Ke , Kala Samunder, Jab Se Tumhen Dekha Hai, Phool Bane Angaare, Mr X In Bombay, Himalay Ki God Mein, Teesra Kaun, Aasra, Chhota Bhai, Devar, Aamne Saamne, Chandan Ka Palna, Night in London, Taqdeer, Raja Aur Runk, Anjaana, Aya Sawan Jhoom Ke, Jeene Ki Raah, Jigri Dost, Mahal, Sajan.
1970s
Aan Milo Sajna, Geet, Ishq Par Zor Nahin, Jeevan Mrityu, Kati Patang, Amar Prem, Khilona, My Love, Mere Humsafar, Sharafat, The Train, Aap Aye Bahaar Ayee, Dushman, Haathi Mere Saathi, Hare Rama Hare Krishna, Main Sunder Hoon, Maryada, Mehboob Ki Mehndi, Mera Gaon Mera Desh, Naya Zamana, Paraya Dhan, Mome Ki Gudiya, Uphaar, Anuraag, Apna Desh, Jawani Diwani, Raja Jani, Seeta Aur Geeta, Zindagi Zindagi, Bobby, Heera Panna, Jheel Ke Us Paar, Jugnu, Kuchhe Dhaage, Loafer, Namak Haraam, Raja Rani, Manchali, Shareef Budmaash, Aap Ki Kasam, Ajnabee, Dost, Majboor, Prem Nagar, Roti, Chupke Chupke , Julie, Pratiggya, Prem Kahani, Sholay, Aap Beati, Balika Badhu, Barood, Bairaag, Charas, Maha Chor, Mehbooba, Amar Akbar Anthony, Anurodh, Apnapan, Dharam Veer, Dream Girl, Mukti, Yehi Hai Zindagi, Aahutee, Satyam Shivam Sundaram, Azaad, Dil Aur Deewar, Main Tulsi Tere Aangan Ki, Pati Patni Aur Woh, Shalimar, Gautam Govinda, Jurmana, Kali Ghata, Mr Natwarlal, Sargam, Suhaag, The Great Gambler.  
1980s
Aap Ke Deewane, Aasha, Aas Paas, Abdullah, Dostana, Hum Paanch, Judaai, Karz, Patita, Shaan, Ek Duje Ke Liye, Love Story, Naseeb, Rocky, Bemisaal, Desh Premee, Ghazab, Rajput, Shakti, Teri Kasam, Vidhaata, Andhaa Kaanoon, Arpan, Avtaar, Betaab, Coolie, Hero, Lovers, Nastik, Woh 7 Din, Zara Si Zindagi, Sohni Mahiwal, Aar Paar, Meri Jung, Yudh, Amrit, Karma, Naam, Nagina, Sindoor, Shahenshah, Chaalbaaz, Chandni, Ram Lakhan, Tridev, Awaargi, Agneepath.  
1990s
Akayla, Hum, Lamhe, Saudagar, Angaar, Heer Ranjha, Khuda Gawah, Kshatriya, Parampara, Vishwatma, Darr, Gumraah, Kha;l Nayak, Sahibaan, Mohra, Dilwale Dulhania Le Jayenge – DDLJ, Ram Jaane, Trimurti, Dhun, Jaan, Rajkumar, Tere Mere Sapna, Ankhon Mein Tum Ho, Deewana Mastana, Dil Toh Pagal Hai, Ghulam – E – Mustafa (Musthafa), Gupt, Pardes, Dushman, Jab Pyaar Kisise Hota Hai, Jhooth Bole Kauva Kaate, Zakhm, Aarzoo, Dil Kya Kare, Kachche Dhaage, Taal, Love You Hamesha.
2000, 2001, 2002
Hadh Kar Di Aapne, Yeh Raaste Hain Pyaar Ke, Nayak, Pyaar Ishq Aur Mohabbat, Rahul, Raju Chacha, Mohabbatein, Gadar – Ek Prem Katha, Asoka (1 song), Yaadein, Mujhse Dosti Karoge, Hum Kisi Se Kam Nahin, Kranti, Kitne Door Kitne Paas, Na Tum Jaano Na Hum, The Hero.
2012 – Yeh Jo Mohabbat hai (1 song)
(Work in progress, your feedback, suggestions, corrections are welcome at rakbak16@gmail.com)
Biography https://anandbakshi.com/biography/