"What do you want for your birthday, dear dad?"
Daughters: Should we buy you Scotch, a sturdy pen or a bagWhat would you really like, for your birthday, dear dad?

Daddy: I don't want a warm sweater, I don't want a watchI don't want 555 cigarettes, or my favorite scotch.I don't want a Tshirt, or the most beautiful tieWhat I really want is something money cannot buy.

Daughters: Oh! Don't make a fuss daddy, please help us selectWhat would you really want, for your birthday, dearest dad?

Daddy: Okay. If you want to make me happy, make my heart glad, just tell me once again, you are fond of your dad.

Daughters: You are our mother, more than you are just our dadWe are fortunate to have you as both, dear dad.

Daddy: (Tears in his eyes, hides his face) Now get on with your shopping, buy things only for Mummy and yourselfJust your tightest hug and your biggest kiss, for myself.

Both daughters rush to daddy and envelop him with their four arms.

– Rakesh Anand Bakshi – (I wrote this poem years ago, keeping in mind my two sisters Suman Datt and Kavita Bali and our daddy)
The two best kavitas of his lifetime
Anand Bakshi (introduces his daughter to radio host Ameen Sayani) pays tribute to his 'sab se badi kavita' (beti) (eldest daughter) Suman (Datt):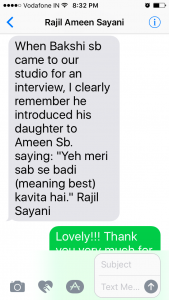 His second best 'kavita' being his second daughter – Kavita (Bali) https://www.facebook.com/kavita.bali.750
Daughter Suman Datt's tribute for her daddy https://www.youtube.com/watch?v=b_WgOIR0_IM
So heres a small look into my life till now.
Started off from belvedere school at mahim . Then moved in the 3rd standard to mount mary school and in the 7th to St. Teresas I had been a fairly good student till I joined St. Teresa's, My grades dropped miserably.This was a key moment in my schooling year as I remember being irked by it and amusingly enough upset even more when my parents were actually not perturbed by the drop in marks (just one statement dnt cry now work harder)- LOL Talk about reverse psychology – it motivated me to the point that I topped the next two years in all terms.and i go nostalgic every time i see my report card which says RANK 1st (which i have laminated and put in my bedroom.)
So while I was going great guns on the education side of things, on the social side – it was just the opposite! Dad was the very conservative father, to the point that going for even a school picnic was a big NO! Outings only with family not friends!!!!So like a lot of young girls in that time and age I looked for a way out and when a marriage proposal at age 19 came my way – I saw it as the road to freedom not knowing that I was jumping from the pan to the fire!!
. Vinay has been an excellent life partner albeit a tad traditionalist ! Jokes aside – he and his family gave me a lot of love and with that I settled into my married life Leaving my parents home and my dear loving brothers and sister
Though I never ventured into any professional endeavors, I did give a shot to designing Indian wear and holding exhibitions. I saw my share of success with it but for numerous reasons did not make a career of it.The focus of my life has been my family. A homemaker defines me best. I use the term "homemaker" as that's what I truly was.. I worked and focused on providing my two children a happy safe healthy environment so that they could achieve what their heart desired . Being a mother has been my full time job and that's what instills pride in my heart as I see their achievements as mine .I now do use that artistic inclination towards creating my own clothes and more as a hobby
When I look at my daughter Nidhi and son Aditya I feel blessed.
My daughter has done her LLB from mumbai and MBA from oxford UK and heading an important division of RACQ , a large insurance firm in Australia where she is happily married to my son in law Rohit and settled.
My son Aditya is a young director in films, he too is happily married to my daughter in law Chandni.
He independentsly directed a Hindi feature film ASHIQ BANAYA AAPNAE at the age of 19. Went on to do four more films the last one being TABLE NO 21 a must watch if u haven't till now!
And he also has a RESTOBAR in GOA by the name of WATERS.
Other than that its a good happy and easy going life I have been BLESSED with a loving family all around and A amazing circle of friends. My day begins everyday with an hour of pooja at the end of which I THANK GOD for looking over me and my family.Regular GYMING SOCIALISING and My grandson KAHIL keeps me pleasntly occupied when at home
For now into the near future, looking forward to a family vacation in Australia where all of us a are going together.
🏻
in JUNE.
– Suman Vinay Datt.